Become a dealer at the Antiques Centre at Olney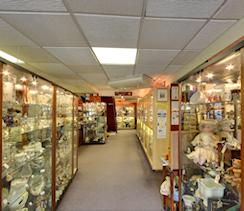 Click to see inside
If you are interested in joining the Centre and becoming a dealer please call us on 01234 710942, visit us at the Centre or fill in the enquiry form below.
If you want to see inside our Centre please look at our virtual tour which you can see by clicking on the interior view to the right.
Our showcases start from as little as £1 per day, depending upon location. Rent is charged monthly, 1 month in advance and we require a minimum initial rental period of 3 months.
All our showcases are fully lockable and we can add alarms if required at no additional cost. We have 2 sizes of showcases available, 3ft wide x 3ft tall with 3 shelves & 3ft wide x 6ft tall with 6 shelves. The showcases are all 15" deep.
We also rent floor spaces. Most are 8ft wide x 8ft deep.
We look forward to hearing from you soon and welcoming you to our Centre.
Enquire about becoming a dealer